Prints are a great way of adding interest and variety to your wardrobe but I know that some women are a bit wary of them. If you're new to wearing prints, stripes and animal prints can be a good place to start as they are both versatile and timeless and team effortlessly with block colours and even other prints.  But which will suit you best – stripes or animal print? This will come down to your style personality, your shape and your scale.
Style Personality
Those with a Classic style personality like to look smart and co-ordinated. They're not driven by a desire to wear the latest fashions and tend to be attracted to the formality and crispness of stripes. If you're a Classic, the chances are you probably already have several striped shirts and/or Breton tees in your wardrobe even if you eschew other prints.
Relaxed, comfort-driven Naturals and attention-grabbing Dramatics, tend to prefer animal prints, although they will wear them in very different ways. Whilst at one point animal print was seen by some as a little tacky (I blame Bet Lynch and Pat Butcher!) nowadays it's lost those connotations and is worn by all sorts of women, including royalty.  If you're new to animal print, the easiset way to wear it is with a block colour but the more adventurous may want to team it with another print. To do this successfully, it's best to ensure the prints are of different sizes and that there is some unifying factor, such as colour.  Here you can see how stylist Maria Kohler mixes a fairly large animal print with a blue ditsy floral and pulls the look together with her belt and bag.
Vertical stripes are slimming – right?
Conventional wisdom has it that vertical stripes are slimming but as this picture neatly illustrates, this is not always the case! Stripes tend to distort and exaggerate any curves you have. Here you can see that, even though the model actually has quite slim legs, the tight stripey leggings make them appear larger than they are – not to mention rather misshapen. A pair of straight/wide- leg stripe trousers which skim rather than cling to the legs' contours would have the opposite effect. So, yes, vertical stripes can be slimming  – but only so long as they are not stretched over curves.
Horizontal stripes add inches, don't they?
Not necessarily. Take a look at these images.  In a study by the University of  York participants actually perceived the horizontal stripes to have a more slimming effect. I feel this study is somewhat flawed though as these are 2D images whereas all the women I see are most definitely 3D!!! Note also, the vertical "highlight" which runs the length of the dress with the horizontal stripes, which draws the eye upwards creating a lengthening and slimming effect.
So what type of stripes will look best on me?
As you've seen, it's not a simple choice between vertical versus horizontal stripes. The width and placement of stripes have quite an impact. Broad horizontal stripes tend to add width as the eye finds them easy to focus on and travels across the width of the stripe, whereas  fine horizontal  stripes are more slimming because they are difficult to focus on and the eye is therefore drawn upwards.  All things being equal though, vertical  stripes will generally be more slimming than horizontal ones, so long as they hang straight and are not clinging to any curves.
Busty and curvy
If you are very curvaceous,  as well as vertical stripes, you may want to give broad horizontal stripes a miss.  Narrow horizontal stripes, such as a classic Breton tee will be fine though. Animal prints are a great choice for curvy figures because they are generally amorphous and quite dense, ie without big expanses of background colour. This means that they camouflage lumps and bumps in a way that a single block colour will not.
Boyish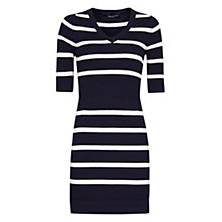 If you have a fairly stright up and down figure you will look good in both horizontal and vertical stripes. Tight horizontal lines and thin stripes across the hips and bust on a close fitting garment will accentuate what curves you have, making you look more shapely.  If you are very thin though, you could opt for bolder stripes to add some volume to your body. Placement of stripes can be crucial. This dress from Mango is a good example of how a dark, broad band amid stripes can create the illusion of a waist where there may not be one.
Triangle/Pear
Both animal print and stripes can be used to draw attention to your top half. Broad horizontal stripes will work particularly well though as they will make your shoulders look broader and balance out your hips. Combine your print top with a plain dark coloured bottom half to further balance out your shape.
Petite/Tall
Choose a print that works with your scale so, if you're petite, a fairly fine stripe or small animal print worn all over will look best.  Vertical stripes win hands down though in terms of making you look taller. If you're tall, and prefer not to emphasise your height though, broad horizontal stripes or animal print combined with a block colour (or, if you're feeling brave, another print) will break up the length of your body and make for a more intersting look.
Best Colourways
High contrast prints are perfect for anyone with Clear (ie vibrant) colouring but if your colouring is Soft, look for more subtle, tonal colour combinations.  So, for example, a bright red and  pure white stripe would be great on a Clear as the contrast she needs is already built into the print, whereas a tonal animal print in, say, shades of taupe, tan and chocolate is more flettering on a Soft.
Still Not Sure?
If in doubt, put a toe in the water with a print scarf in your best colours. Whether striped or animal print (or indeed floral, spotty or paisley!) it will add interest to an otherwise plain outfit.