Stripes have become part of many women's daily uniform. Age-appropriate, versatile and timeless, they never go out of fashion. This season, in particular, the shops are awash with them.  How savvy are you about choosing the stripes that will be most flattering on you though?
Vertical stripes are slimming – right?  
Conventional wisdom has it that vertical stripes are slimming but as this picture neatly illustrates, this is not always the case! Stripes tend to distort and exaggerate any curves you have. In this case, even though the model has slim legs, because the leggings are so close fitting, they make her legs look larger than they are – not to mention rather misshapen. On the other hand, a pair of straight leg stripe trousers which skim rather than cling to the legs contours can be wonderfully flattering and elongate the legs.
Horizontal stripes add inches, don't they?
Not necessarily. Take a look at these images.  Here, I think you'd agree that the horizontal stripes are more slimming. Again, it's largely down to the fact that vertical stripes don't work well on a curvy shape.
So what type of stripes will look best on me?
Like any trend, print or fabric, choosing styles to suit your individual body shape is key to pulling off a winning look.
Busty and curvy
Avoid very broad horizontal stripes as these will contribute to the feeling of width as the eye is drawn across the fabric – so not ideal. A classic striped Breton tee will be fine though. Or why not wear a cardigan or jacket over the striped top so you see a pop of the stripe rather than the whole expanse and team with plain bottoms?
Boyish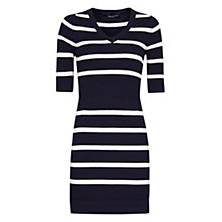 Boyish figures look good in both horizontal and vertical stripes. Tight horizontal lines and thin stripes across the hips and bust on a close fitting garment will create shape and give the illusion of movement, accentuating what little curves there may be.
This dress from Mango is a good example of how a darker band amid stripes can create the illusion of a waist where there may not be one.
Triangle/Pear
You can use stripes to draw attention to your top half. Broad horizontal stripes worn on top will make your shoulders look broader and balance out your hips. Choosing plain skirts and trousers will also deflect attention.
Petite
The size of stripe you wear should ideally work with your scale so, if you're petite, a fairly fine stripe will look much better than anything too broad. Vertical stripes will make you look taller.
Just a word on contrast
As a colour consultant, I cannot close without mentioning colour and contrast. Stripes are a great choice for people with a high degree of contrast in their natural colouring. They look fabulous in stripes in strongly contrasting colours such as dark navy and bright white, whereas those with softer colouring will find less contrast works better, for example French blue and ivory.